SNORE LESS – SLEEP MORE – USE ASONOR SNORING NASAL SPRAY!
Everything about ASONOR®
 snoring nasal spray
HERE'S HOW YOU CAN START SLEEPING LIKE AN ANGEL & STOP BOTHERING YOUR LOVED ONES!
Are you a loud snorer? Do you keep your family awake at night? Do you sound like a train engine? Now you don't have to bother your family, wake up your kids in the middle of the night or wake up exhausted every single morning! What you need is a clinically tested, proven, and effective anti-snoring solution. ASONOR snoring nasal spray
PRESENTING THE ASONOR – THE CLINICALLY PROVEN SNORE STOPPER NASAL SPRAY FOR YOU!
If you or your loved ones are snoring at night, it takes a huge toll on your productivity, energy levels, and overall health. Snoring can affect your breathing and you end up feeling tired the next day because your body puts so much effort into breathing properly. That is exactly why our tested and proven snore relief remedy drops will help you and your loved ones: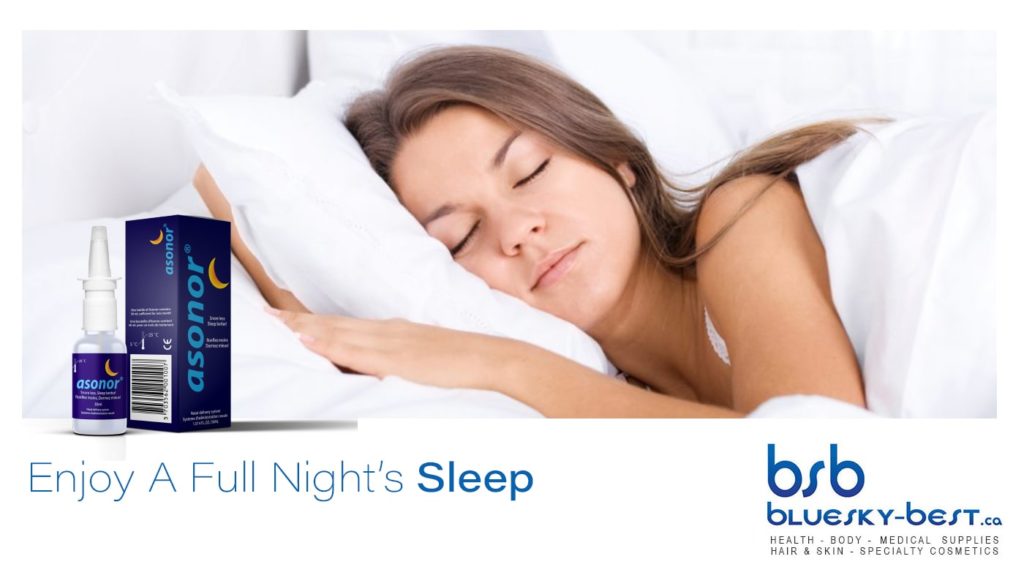 Enjoy A Full Night's Sleep

Feel Refreshed & Revitalized Every Morning

Say Goodbye To Snoring Once & For All
How? Our potent formula will help unclog your nasal and throat airways, thus enabling you to breathe easily and effectively preventing snoring.
JUST A FEW DROPS GO A LONG WAY! ENJOY SNORE-FREE NIGHTS – STARTING TODAY!
The Asonor anti-snore liquid formula has been developed in collaboration with expert doctors, to ensure its safety and maximum potency.
All you have to do is pump 4-5 drops into each nostril before you go to bed and let our powerful formula unblock your air passages and help you breathe again!
As a result, you will be able to:
Fall Asleep Faster

Enjoy Uninterrupted & Snore-Free Sleep

Wake Up Easily

Snore remedy
WAKE UP ENERGIZED & BOOST YOUR PRODUCTIVITY WITH ASONOR!
Snoring is not just extremely irritating, but also highly exhausting for both you and your loved ones. This physical toll is reflected in your mood, energy levels, and performance. However, we have exactly what you need to snore less and sleep more!
Just a few drops of ASONOR® will allow you to
Stop Snoring

Breathe Easily

Wake Up Rejuvenated & Well-Rested

Stop Bothering Your Family

Turbocharge Your Productivity, Performance & Mood

Details about ASONOR® Snoring Nasal Spray:
Composition: Asonor contains: Polysorbate 80, Glycerol 85%, Sodium Chloride, Dibasic Sodium Edetate, Potassium Sorbate, Purified Water.
Therapeutic Action: Anti-snoring (Respiratory System). Anti-snoring system for nasal application. Classification: Class I medical device. Mechanism of action: Asonor ® eliminates the most common cause of snoring.
Asonor ® lubricates and softens the mucous membrane and slightly increases the tone of the throat muscles, reducing resistance to the air passage. This prevents obstruction of breathing when sleeping and when you wake up your mouth is dry.
Indications: Asonor ® is indicated to completely reduce or eliminate loud snoring, to reduce the prevalence of obstructive sleep apnea.
Dosage: Asonor ® is administered nasally. Asonor ® can be safely used by everyone. As a precautionary safety measure, consult your doctor before administering to children under 7 years of age, pregnant or lactating women, or the elderly.
Asonor can be used by patients who are under treatment for other pathologies. Asonor ® can also be used by people who drive or operate dangerous machinery and also by athletes (it does not give positive doping).
The Asonor ® solutions are applied every night, immediately before going to bed. Tilt your head back and squeeze the sprayer hard 4-6 times in each nostril until you feel the solution in your throat. For the best results, it is essential that the solution arrives and covers the mucous membrane of the throat.
If after applying you decide to eat or drink liquids, reapply just before bed. In some cases, the desired result is not achieved immediately. Constant use of the nasal solution is recommended until the expected effect is obtained, usually within the first 2 weeks. Asonor® must be used every night. The solution is especially suitable for long-term treatment.
Side Effects: Asonor® has no known adverse effects.
Contraindications: Asonor ® has no known contraindications.
Warnings: Always replace the cap and keep it out of the sight and reach of children. Once opened, use within 3 months. If the solution gets into the eyes, rinse with water. Do not use your Asonor container if the seal is damaged. If you have any questions, consult your doctor and/or your pharmacist.
Drug Interactions: Do not use before administration of other nasal sprays as this may reduce the effectiveness of the product.
Presentations: Each bottle of Asonor ® contains 30 ml. Asonor is a nasal application system consisting of a liquid (aqueous solution) in a bottle with a high-pressure pump. Each bottle lasts approximately 1 month of treatment by applying 4 sprays (poofs) per nostril.